Seasonal story in Karuizawa

Karuizawa, a town with rich nature and culture

We will introduce you to places where you can enjoy a time of relaxation through the history, culture, landscapes and nature that are unique to Karuizawa.
Spring story

Karuizawa in the spring
Spring

Springtime full of vitality

Karuizawa's town tree, kobushi magnolia, begins to bloom, announcing the arrival of spring. In May, trees and flowers sprout all at once, and the fresh green season begins. The weather is comfortable, and walking around Karuizawa is recommended.
Summer story

Karuizawa in the summer
Summer

A bustling summer in Japan's leading summer resort

The cool summer of Karuizawa is the area's liveliest and most vibrant season.
Summer festivals and other summer events as well as sightseeing and activities are attractive ways to enjoy Karuizawa.
Autumn story

Karuizawa in the fall
Autumn

The whole town wrapped in autumn foliage

The fall leaves of Karuizawa, with its high altitude, are very beautiful, and offer many scenic spots.
Autumn color starts gradually from October and reaches its peak in early November.
Hiking while enjoying the scenery and visiting museums are popular autumn activities.
Winter story

Karuizawa in the winter
Winter

Twinkling illumination in winter

The sight of Mt. Asama covered in snow signals the full arrival of winter. Along with the annual Karuizawa Winter Festival, the whole city is colored with illumination.
Tourist attractions decorated with snow is another highlight. You can also enjoy winter sports.
A well-known hot spring that has long been famous for enriching beautiful skin. You can enjoy the soft, smooth hot water from the sink. Seasonal hot water is also popular
(May: hot sweet flag water / October - November: hot apple water / December: hot citron water, etc)
Opening hours / 10:00 to 23:00 Adults ¥ 1300 Children ¥ 750
Karuizawa's only ski resort has excellent access right next to Karuizawa Station.
From the top of the course, you can see Mt. Asama and below you, the town of Karuizawa.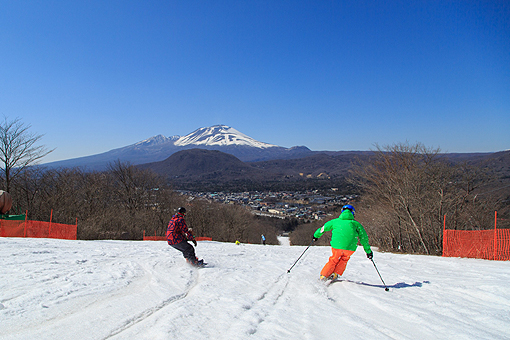 One of the largest year-round sports facilities in Japan where you can experience curling.
There is also a curling experience course for beginners, so you can feel free to try out the topical sport.
※ Reservation required
You can enjoy picking cultivated strawberries throughout the year. The seasons are divided into summer / autumn strawberry picking and winter / spring strawberry picking, with different types of berries being grown. 2 or 3 varieties are grown every season so you can enjoy eating and comparing different kinds.
※ Reservation required
Megumi Chalet (illumination)
Training and accommodation facilities for Christians. Wonderful winter illumination lights the grounds every year, and you can enjoy the fantastic sights in the clear winter air.